Contabo Review: Is It Really Good?
Last Updated on October 5, 2023
Contabo is a renowned name in the web hosting business. They offer amazing services to meet all website needs. Pricing and features make Contabo stand out from its competitors.
Web hosting or VPS solutions? Contabo is used by a lot of people and companies. Their infrastructure guarantees maximum performance and uptime. It allows your website to be successful without any issues. Whether it's a small application or multiple high-traffic websites, Contabo has plans that work.
Contabo's prices are unbeatable. Other providers charge a lot for minimal resources. Contabo's plans are cost-effective, with plenty of storage space, bandwidth, and memory. You'll get maximum value for your money with great performance.
I have personally used Contabo as my VPS host since 2021. In the beginning, I was a little sceptical as to why their services were relatively cheaper compared to other platforms and yet offered almost ten times the value in terms of resources such as bandwidth, storage, vCPUs and RAM.
I had initially decided to use their server as a staging environment for some of my projects, but I quickly decided to migrate almost all my projects to Contabo due to the number of resources I had access to relative to the price I was paying.
In this guide, I want to give my honest review of how Contabo has been for me and some of the things I have noticed over the past years of using Contabo.
| | |
| --- | --- |
| ⭐ Rating | 4.5 |
| 💵 Price | From $6.99 |
| ⚙️ Hosting Types | VPS, VDS, Shared and dedicated servers |
| 🕔 Uptime | 99.996% |
| 🌏 Datacenters | Germany, US, UK, Singapore, Japan, Australia |
Overview of Contabo
To gain a comprehensive understanding of Contabo, I'll delve into an overview of this service provider. I'll explore the history of Contabo and the range of services it offers, including web hosting, VPS, and cheap VPS solutions.
History of Contabo
Contabo, a renowned web host provider, has a remarkable past that showcases its commitment to progress and excellence. Starting small, it didn't take long for them to become known for its exceptional services.
Contabo was founded in 2003. They started as a small web hosting Company in Germany. Their love for technology and devotion to delivering great services allowed them to rapidly expand and offer virtual private servers (VPS) and dedicated servers.
Contabo's customers increased quickly due to their trustworthiness and budget-friendly prices. To guarantee optimal performance and security for their clients, they invested a lot of money in the latest data centres in Munich and Nuremberg.
What differentiates Contabo is their ceaseless pursuit of improvement. They constantly upgrade their hardware and software technologies to stay ahead of the competition. This promise allows them to provide modern solutions that fulfil the ever-changing needs of businesses and people around the globe.
Today, Contabo serves more than 150,000 customers all over the world, providing an array of hosting solutions like shared hosting, VPS hosting, dedicated servers, and colocation services. Their triumph can be attributed to not just their technical know-how but also to their unwavering focus on client satisfaction.
Services offered by Contabo (web hosting, VPS, cheap VPS)
Contabo has a range of services to choose from, including web hosting and VPS options. Plus, they provide cheap VPS plans. Here's the lowdown of their services:
| Service | Description |
| --- | --- |
| Web hosting | Individuals and businesses can get reliable web hosting solutions from Contabo. They have various plans to fit different needs. |
| VPS | Contabo provides Virtual Private Servers that give users full control over their server environment. |
| Dedicated Servers | Contabo also offers dedicated server plans that don't skimp on performance or quality. |
It stands out for its strong infrastructure. They guarantee fast connections, excellent security, and dependable data backup. You can interact with their API and automate various things.
I personally use their snapshot API to create a VPS snapshot programmatically.
Features and Benefits of Contabo's Web Hosting
To ensure reliability, performance, and scalability in your web hosting, Contabo offers a range of features and benefits. Discover the advantages of Contabo's web hosting, including the reliability and uptime it guarantees. Additionally, explore the performance and speed optimizations provided, along with the scalability and flexibility options available to meet your website's evolving needs.
Reliability and Uptime
| Categories | Features | Benefits |
| --- | --- | --- |
| Infrastructure | State-of-the-art data centres | High reliability & uptime |
| | Redundant network connections | Improved performance & stability |
| | Backup power supply | Protection vs. power outages |
| | DDOS Protection | Free DDOS protection for all their customers |
| Server Hardware | Enterprise-grade hardware | Enhanced speed & processing capabilities |
| | Solid-state drives (SSD) | Faster website loading times |
| | RAID technology | Data redundancy for improved security |
They have implemented redundant network connections in their state-of-the-art data centres. This ensures improved performance and stability.
Plus, a backup power supply gives added protection in the event of power outages.
Their enterprise-grade hardware includes solid-state drives (SSDs) for faster website loading times. We also use RAID technology for data redundancy and improved security.
Contabo has an excellent track record of delivering reliable hosting services. Ever since I purchased a VPS plan back in 2021, I have had only one encounter of downtime, which does back their claim of 99.996% uptime.
Performance and Speed
Performance and speed are essential for any website's success. They influence how quickly pages load and how smoothly they run, affecting user experience. With Contabo's web hosting, you'll get top-notch performance and lightning-fast speeds!
SSD storage: Contabo uses Solid State Drives (SSD) to store data. This results in quicker loading times and seamless performance.
Hardware infrastructure: Contabo's servers are hosted in modern data centres with the latest tech. Their powerful processors and ample RAM guarantee peak performance, even during high traffic.
CDN: Contabo's hosting includes a CDN feature that distributes content across multiple servers worldwide. This minimizes latency and optimizes loading times.
Caching: Contabo has advanced caching mechanisms that store frequently accessed data closer to the user, reducing the time to retrieve info and improving page speed.
Control panel: Contabo offers a user-friendly control panel that simplifies administration and optimizes settings for enhanced performance.
To maximize performance and speed, here are some tips:
Optimize images: Compress and resize images before uploading them. Large image files slow down page loading.
Enable browser caching: Instruct visitors' browsers to store static resources locally, reducing the need for repetitive downloads and speeding up visits.
Minify CSS and JavaScript: Minifying removes unnecessary characters, white spaces, and comments, reducing size and improving loading speed.
Use a CDN: A CDN distributes web pages across multiple servers worldwide, ensuring faster access for users.
Update plugins/themes: Keeping software up to date gives you access to the latest performance optimizations and security enhancements.
Scalability and Flexibility
Let's explore the scalability and flexibility of Contabo's web hosting! These are key factors to consider when selecting a provider. Take a look at this table:
| Feature | Description |
| --- | --- |
| Resource Scaling | Easily increase or decrease resources such as CPU, RAM, and storage based on your website's needs. |
| Multiple Hosting Options | Pick from shared hosting, VPS, and dedicated servers. |
| Customizable Solutions | Tailor your plan to fit your exact needs with the desired amount of resources, software, and services. |
| High Availability | Contabo's redundant infrastructure ensures continuous uptime for your website. |
| Easy Upgrades | Seamlessly upgrade your plan as your business grows without any interruptions. |
What makes Contabo stand out is its focus on offering powerful yet affordable web hosting. Their user-friendly control panel lets you manage your hosting environment effortlessly, Install applications, set up emails, and monitor performance metrics with ease.
Contabo's scalability, flexibility, performance, and affordability offer an all-in-one solution for any website.
I have personally not used this feature as my VPS is more than sufficient for all my projects.
Contabo's VPS Hosting
To make the most of Contabo's VPS hosting, let's explore their pricing options and packages, performance and resources, as well as customer support and assistance.
By understanding the benefits of each sub-section, you can find the ideal solution for your web hosting needs with Contabo's affordable and reliable VPS services.
Pricing Options and Packages
Contabo's VPS hosting plans and packages are designed to fit different needs. Check out the offerings:
| Plan | CPU | RAM | SSD Storage | Bandwidth | Price/month |
| --- | --- | --- | --- | --- | --- |
| VPS S | 4 cores | 8 GB | 200 GB | 32 TB | $8.49 |
| VPS M | 6 cores | 16 GB | 400 GB | 32 TB | $13.99 |
| VPS L | 8 cores | 30 GB | 800 GB | 32 TB | $22.99 |
| VPS XL | 10 Cores | 60 GB | 1.6 TB | 32 TB | $40.49 |
Each package provides enough resources and 32 TB bandwidth for a smooth operation. With Contabo, you can pick a plan that suits your requirements.
For an ideal VPS hosting experience, here are some ideas:
Optimize your site: Optimizing your code, images, and content can speed up the loading time and performance. This will better the user experience and influence search engine rankings.
Update software: Keeping your software up-to-date is important for security. Installing updates and patches protects your site from risks and threats.
Backup your data: Making regular backups of your data is essential. This way, any unforeseen events or technical issues won't damage your info.
By following these tips, you can make the most of your VPS hosting for a secure and smooth online presence.
I personally use the VPS S package($8.49), and it has been more than sufficient for me.
Performance and Resources
Contabo's VPS hosting provides outstanding performance. With their advanced infra and optimized servers, users can expect minimal downtime and maximum uptime.
They give ample storage capacity and generous RAM allocation.
Total RAM allocated to by VPS
Total SSD Storage
I have already used up about 40 GB of my total allocated storage, and I still have more than 100 GB of storage available.
You have access to all ports, including Port 25(SMTP), which allows you to host an in-house mail server. Most providers tend to block similar ports, making it hard to add certain features to your VPS. This was one of the selling points of Contabo, as I was able to host and maintain my own email server within my VPS.
Moreover, Contabo delivers high-quality bandwidth with excellent connectivity options. This guarantees quick data transfer between servers and users, improving the browsing experience. Plus, add-ons such as SSL certificates and dedicated IP addresses are available to improve website security and functionality.
I personally have had huge traffic spikes on my blog at certain times of the year, and my VPS has always been able to handle the massive spikes in traffic with minimal load times.
Customer Support and Assistance
Contabo is one of the critical things to consider when choosing a VPS provider. Customer Support seems to be a hit or miss based on multiple customer reviews. They offer different channels, like email and phone support. The only bummer is that they don't offer live chat support.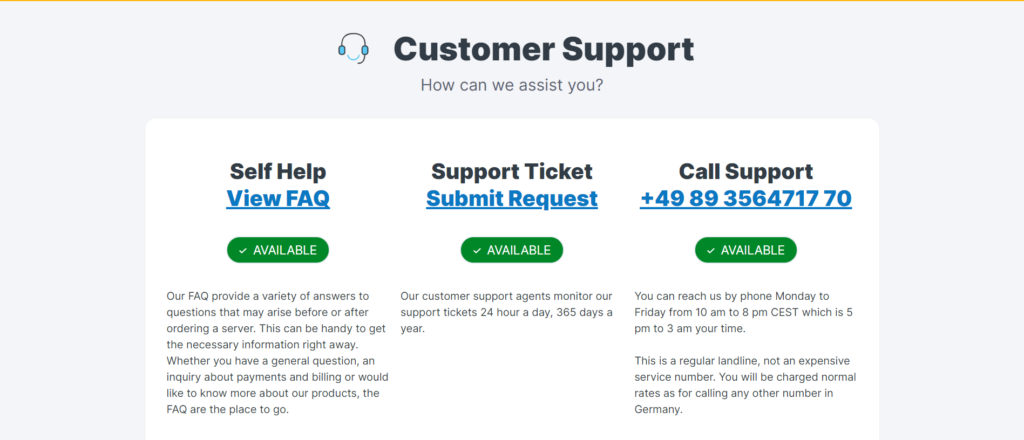 On their website, they also offer a knowledge base and FAQs section so that customers can find answers by themselves.
I have had one encounter where I needed help from Customer Support, and they were able to solve my issue relatively quickly.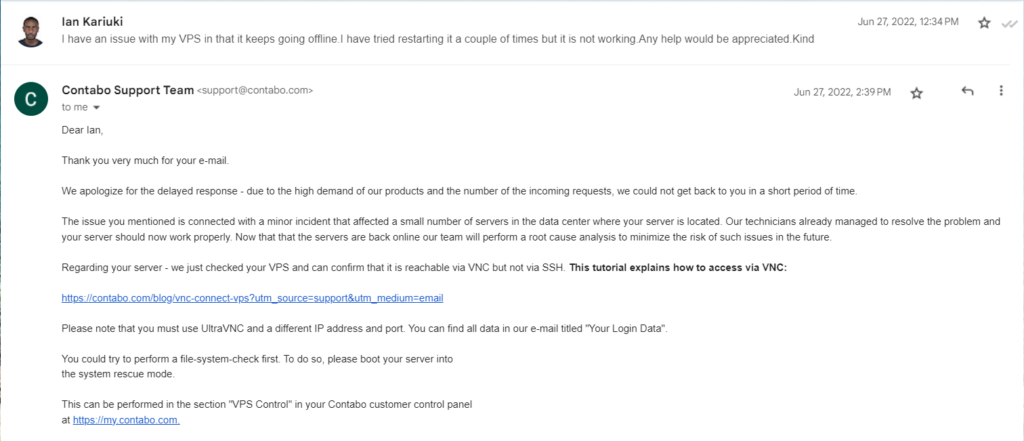 Comparison with Other Web Hosting Providers
To evaluate Contabo's web hosting services in comparison with other providers, examine the following sub-sections: Price Comparison, Features Comparison, and Customer Reviews and Feedback. These sections provide a comprehensive overview of Contabo's offerings, allowing you to make an informed decision when selecting a web hosting provider.
Price Comparison
Check out the table below for an overview of the prices offered by different web hosting providers.
We will take a simple example of a VPS service with the following Features
1 GB RAM
1 vCPU
1 TB Bandwidth
25 GB SSD Storage
| Provider | Price (per month) |
| --- | --- |
| | $5 |
| | $6 |
| | $11 |
| Contabo | $8.49 |
Features Comparison
I've prepared a table to compare different web hosting providers. These values are obtained from each provider's website and are subject to change.
See below for an overview:
| Provider | vCPUs | Storage(SSD) | Bandwidth | RAM |
| --- | --- | --- | --- | --- |
| | 1 | 25GB | 1 TB | 1GB |
| | 1 | 25GB | 1 TB | 1GB |
| | 1 | 25GB | 1 TB | 1GB |
| Contabo | 4 | 200GB | 32 TB | 8GB |
We can take the average price range to be $5-$10, and compare what Contabo offers for a similar price range.
The cheapest Contabo VPS package( CLOUD VPS S ) is $8.49/month, and it offers 4 vCPU Cores, 8 GB RAM, 200 GB SSD Storage and 32 TB Bandwidth, not to mention their free DDOS protection, which is provided to all their Customers for free.
To me, that is a far more budget-friendly option as I have access to more resources compared to what I pay for.
Customer Reviews and Feedback
Customer reviews and feedback are vital when it comes to finding reliable web hosting providers. Here are six points to think about:
Performance: Customers love the quickness and uptime of the provider. Websites load quickly and experience minimal downtime.
Customer Support: Many customers appreciate the knowledgeable, 24/7 customer support team. Issues are solved right away.
User-Friendly Interface: Customers find the interface easy to use. They can manage their websites without needing technical skills.
Value for Money: Reviewers point out that the plans offer good features at competitive prices.
Security Measures: Customers trust the strong security measures. Regular backups, SSL certificates, and malware scanning are included.
Scalability Options: Businesses wanting to scale up appreciate the provider's flexibility. They can upgrade plans as their traffic increases.
Given these factors, according to Trustpilot, Contabo has a 4.2 Star Rating.
There seems to be a rather recurrent complaint as to downtimes in various server locations.
For context, my VPS server is stationed in their UK data centre, and I have had downtime and disruptions only once.
While not perfect, I can only talk from my own experience using the service and what I have noticed over the past years.
Conclusion: Is Contabo the Right Choice for Web Hosting and VPS?
To make an informed decision on whether Contabo is the right choice for your web hosting and VPS needs, consider the pros and cons of Contabo and the tradeoffs you might be willing to overlook.
By weighing these factors, you can determine if it aligns with your requirements and budget, ensuring a suitable hosting solution for your website or VPS services.
Pros and Cons of Contabo
Contabo offers a few pros:
Affordable pricing for web hosting and VPS needs.
Range of hosting plans for different requirements. Plus, their servers are high-performance.
But, there are cons too:
Customer support options are limited. No live chat.
Some reports of occasional downtime.
Also, there are a few data centre locations.
The UI is a little bit overwhelming for a beginner.
Some data centres experience more downtimes than others.
Setup fees for VPS
No refund policy
To counter these cons:
Look for help on forums and communities.
Monitor server status and receive notifications.
Research other hosting providers with data centres in the required regions.
Final Recommendation
After using them for quite a while, I can confidently recommend Contabo's web hosting and VPS solution. You might want to try it out before migrating all your services to Contabo.
Having hosted my applications on Contabo for a little over a year now, I can confidently say that I have not had any significant issues apart from the one time I had my VPS going offline, which they addressed swiftly.
Frequently Asked Questions
What is Contabo?
Contabo is a web hosting company that offers various hosting services, including VPS (Virtual Private Server) hosting. They are known for providing affordable and reliable hosting solutions to individuals and businesses.
What are the key features of Contabo's VPS hosting?
Contabo's VPS hosting offers features like dedicated resources, full root access, SSD storage, high-speed network connection, and a user-friendly control panel for easy management of your server.
Is Contabo's VPS hosting suitable for small businesses?
Yes, Contabo's VPS hosting is suitable for small businesses. It offers affordable plans with scalable resources, allowing businesses to start small and expand as their needs grow.
Can I upgrade my VPS plan with Contabo?
Yes, Contabo allows for easy upgrading of VPS plans. You can easily increase your resources, such as CPU, RAM, and storage, as your website or application demands more power.